CMM Part Inspection & 3D Measurement Services
AMG is a proud provider of portable CMM measurement and alignment services. These solutions are used for applications that require high-precision and small-scale scanning services for the tight-tolerance part measure, as well as CAD or GD&T comparisons and equipment alignment. Laser tracking services allow for measurement, alignment, inspection, documentation, and so much more. By utilizing innovative technology like the Faro laser Tracker, Axis Mechanical Group is able to ensure quality, precision, and safety surrounding a project.

This service has an extremely high precision (+-.0006 inches), and our CMM measurement and alignment services are compliant with Faro's Best Practices. We use the Kinary System in order to check system accuracy and ensure quality.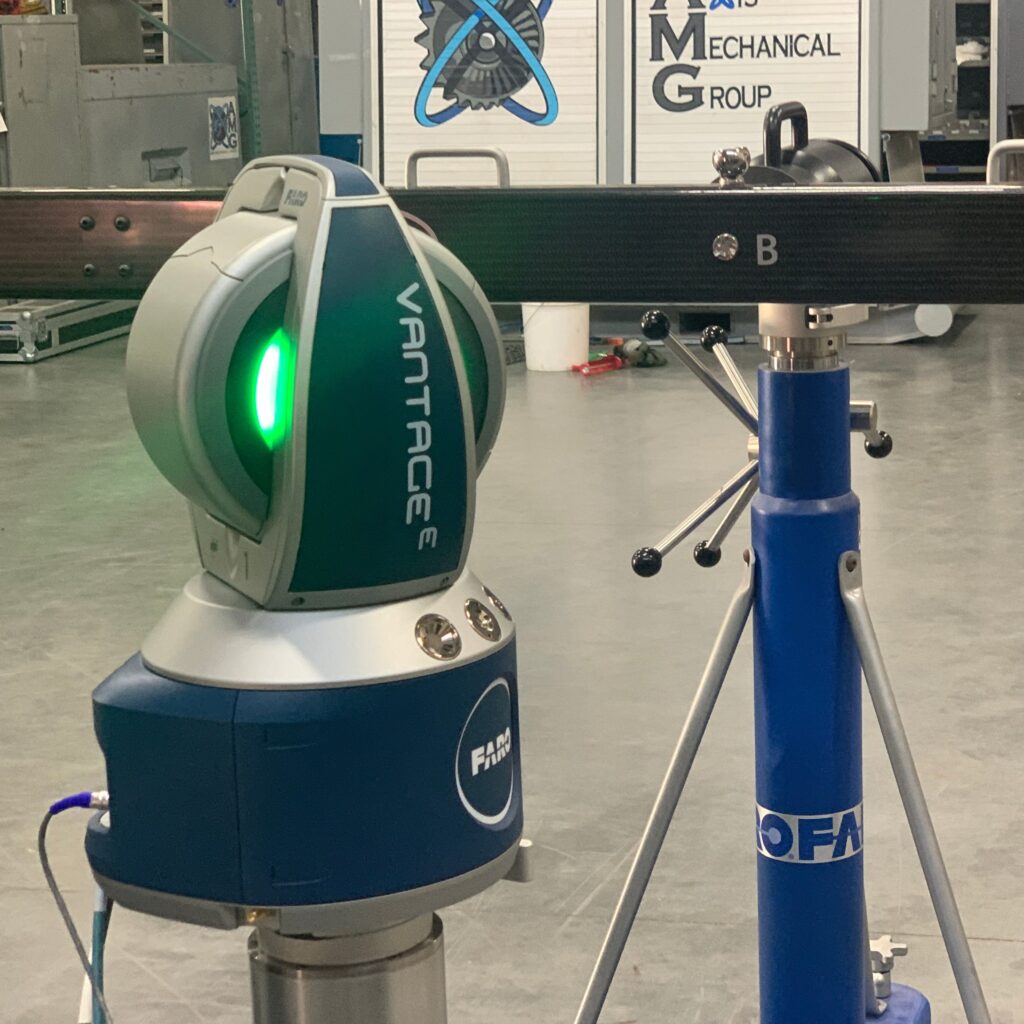 Capabilities & Solutions
Axis Mechanical Group offers portable CMM measurement and alignment services with consistently updated calibration systems. We can work in any industry, providing accurate and high-quality solutions that meet your needs.

Contact us today to talk about our high-accuracy measurements, CAD comparisons, or any topic you may want to discuss related to portable CMMs and alignment.
Large Alignments
AMG uses portable CMMs for multiple types of industrial alignments. Laser Tracker CMM alignment solutions can be used for larger equipment or machinery. Large presses and processing equipment are just a couple of examples of what can be done.

Large alignments can be done throughout multiple industries, including manufacturing, steel, and paper and pulp. The use of these services has evolved to applications that used to be less common, such as overhead cranes in power plants or R&D equipment in defense facilities.
High-Accuracy Measurements
Laser tracker measurements from CMMs can be extremely accurate. When in the right environment, their tolerance can be less than .0006 inches. CMM arms can be close in accuracy but are slightly less accurate, at around .001 inches.

With Pointing CompIT, we check the accuracy of the laser tracker in order to compensate if necessary. A Pointing Interim Test should be done before starting any new measurement job, as accuracy relies on this. Using backsight measurements can provide extra checks and redundancy.

Relying on the Best Practice Measurements with Faro, AMG has been able to provide the high-quality measurements and accuracy possible today.
Parts Measurements
Our part measurements are usually simple, highly accurate checks for both old and new parts. We can either verify dimensions or utilize GD&T comparisons. We are looking to expand our parts scans and modeling as demand grows. High-accuracy scanning arms can provide a digital point cloud for CAD modeling of information already collected.
CAD Comparisons And GD&T Comparisons
In addition to parts measurements, we can compare a scanned part with a CAD drawing. The software we use shows a high and low visualization with colors; high areas are red, and low areas are blue. CAD comparisons allow for the detection of changes to revisions, validation of accurate translations, the comparing of parts and points, and more.

The same information applies to GD&T comparisons, which are another part of portable CMM measurements.
Portable CMM FAQ
A Portable CMM is a portable coordinate measuring machine for collecting measurements from the complex surface geometry of an object. These machines can travel to the part for convenience and does not require a controlled environment to operate.
How does a portable CMM work?
The Portable CMM uses a flexible measuring arm, or articulating arm, to collect geometrical measurements of a part. These arms have 6-7 axes that are coupled with rotary encoders and are equipped with compact linear or matrix array cameras to collect measurement retroflected data.  
What are the advantages of using portable CMM versus a traditional CMM?
Although Portable CMMs are typically less accurate than a traditional CMM, Axis Mechanical Group's Portable CMM assemblies offer efficiency and convenience while maintaining accuracy with measurements at +- .0006".
Applications
Applications for portable CMMs are various, ranging from small-scale to larger projects across several industries. These include but are not limited to:
Quality Guaranteed
Our equipment delivers high precision results with measurements at +- .0006″
Compliant with Faro's Best Practices 
OUR OUTSTANDING TRAINED WORKFORCE
AMG's combination of experienced professionals and the latest technology ensures the safest and highest quality work making us the reliable choice. At AMG, we know one key factor to a seamless execution of any petrochemical turnaround starts with project planning.
24-hour Emergency Service
Commitment to a safe work force and job site
Trained and certified Millwrights, Foremen, and supervision
Dedication to continued Journeymen training
Groundbreaking apprenticeship and pre-apprentice programs.
Learn More About Our Qualified Team
Axis Mechanical Group, Inc., is a millwright company providing turnkey solutions for the installation, maintenance, repair, overhaul, and upgrade of industrial rotating and reciprocating equipment for the petrochemical industry.
HAVE ANY QUESTIONS FOR US?
Regardless of whether you need equipment serviced, long-term service agreements, or the balance of plant maintenance, our team is ready to help you. To learn more about how we can serve your industrial machine repair and other millwright service needs, call us today at 832.449.6485, fill out our contact form, or request a quote.